Health and Medical Support
In the world, there are people who lose their arms and feet because they had no ability to receive basic treatment even for once. There are people who die because they do not have one pill to cure diseases. We provide healthcare service to cure people in a suitable time and let them enjoy healthier life.
DONATE
01.
Medical Support for Child Burn Patients
- We provide healthcare service for children with burn injuries whose family cannot afford to support for medical treatment in developing countries. Share Sarangbat helps them get medical support in a partnership with hospitals in their countries or in Korea by inviting them. For the follow-up we help those child patients get sponsorship from multi-donors to be able to get them long-term care and also provide them the medicine for their sensitive skin.
02.
Health Care Service
People in rural areas cannot get necessary treatment for their condition. We help those patients with incurable diseases get medical support in their countries and in Korea by inviting them.
Support for Medical ExpenseWe support for the medical expense by holding fund-raising campaigns especially for those patients with rare disease who cannot afford for the treatment. Considering the resources, and the environment, we help get medical treatment in their countries or in Korea by inviting them.
Medical Treatment SupportShare Sarangbat sends Medical Service Teams including volunteer doctors and nurses to the rural areas in developing countries to procedure medical checkups and treatment to the local people.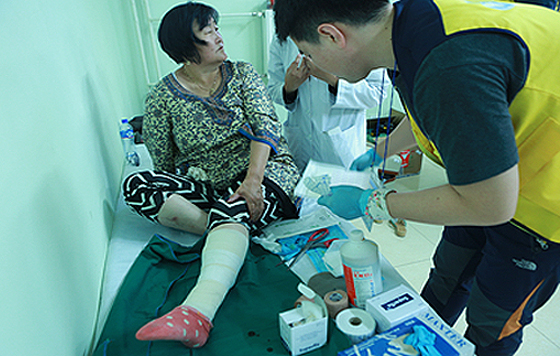 03.
Delivering Medical Supplies
Share Sarangbat sends and provides the people in need in the least-developed countries with medical supplies via a partnership with pharmaceutical companies. We deliver necessary medication like antibiotics and medicine for skin diseases etc. Mosquito nets and medicine for treating malaria are also provided to prevent and fight malaria.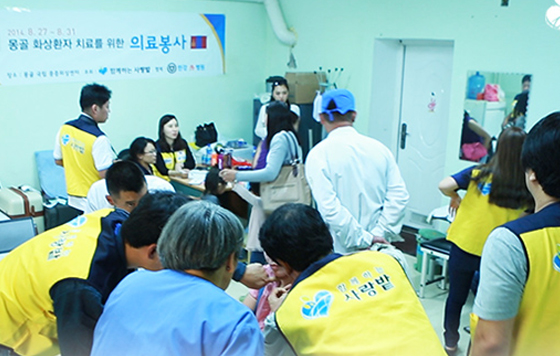 04.
Maternal and Child Health Care
According to the WHO*, every day in 2015, about 830 women died due to complications of pregnancy and child birth. Also, 4.5 million (75% of all under-five deaths) occurred within the first year of life in 2015. Particularly, the maternal mortality rate is the highest in Africa. Maternal mortality is a health indicator that shows very wide gaps between rich and poor, urban and rural areas, both between countries and within them. Share Sarangbat supports mothers with their newborn infants to protect their life and health.
-Shelters for orphaned teenage mothers and their babies
-Medical checkups service for pregnant mothers and infants
-Sensitizing education on prevention from sexual assault and sex education
-Childbirth classes for mothers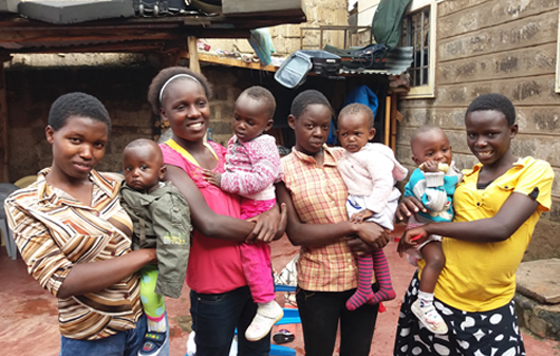 05.
Support for Prosthetic Limbs
For people with disabilities, especially children who have lost their hand or leg, we help provide them with a prosthetic limb for their new life. Families of the most of recipient children cannot afford for the expense and the Prosthetic limbs especially for children without limbs require replacing every 18 months as their bodies grow.
Share Sarangbat supports existing recipient children for replacing their prosthetic limbs with new ones as well as for their education via our sponsorship program.