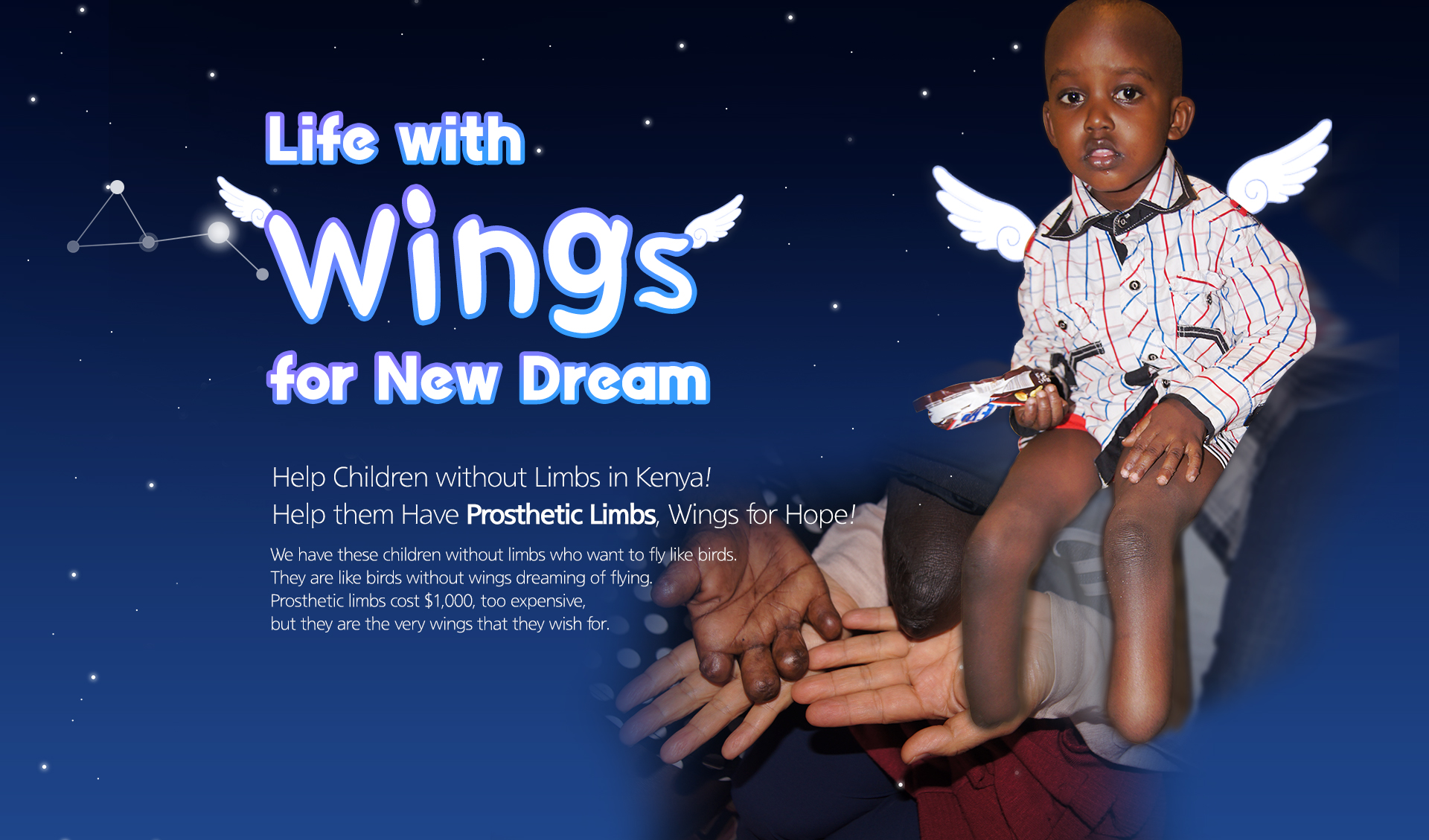 Life with Wings for New Dream

Help Children without Limbs in Kenya!
Help them Have Prosthetic Limbs, Wings for Hope!

We have these children without limbs who want to fly like birds.
They are like birds without wings dreaming of flying.
Prosthetic limbs cost $1,000, too expensive,
but they are the very wings that they wish for.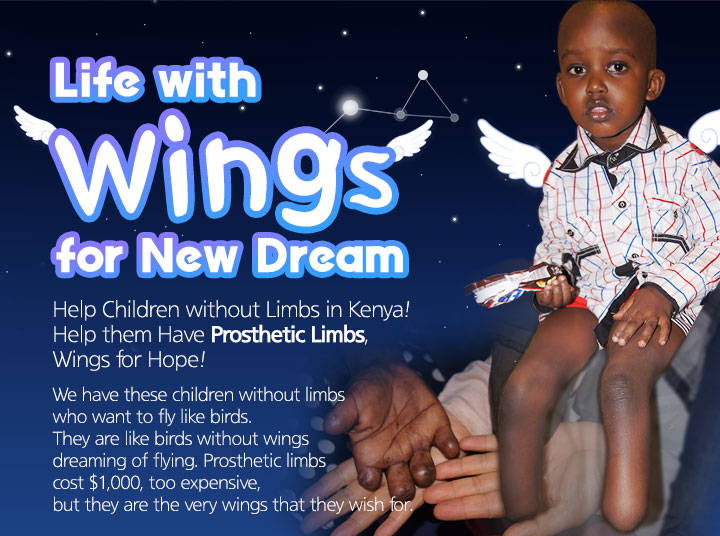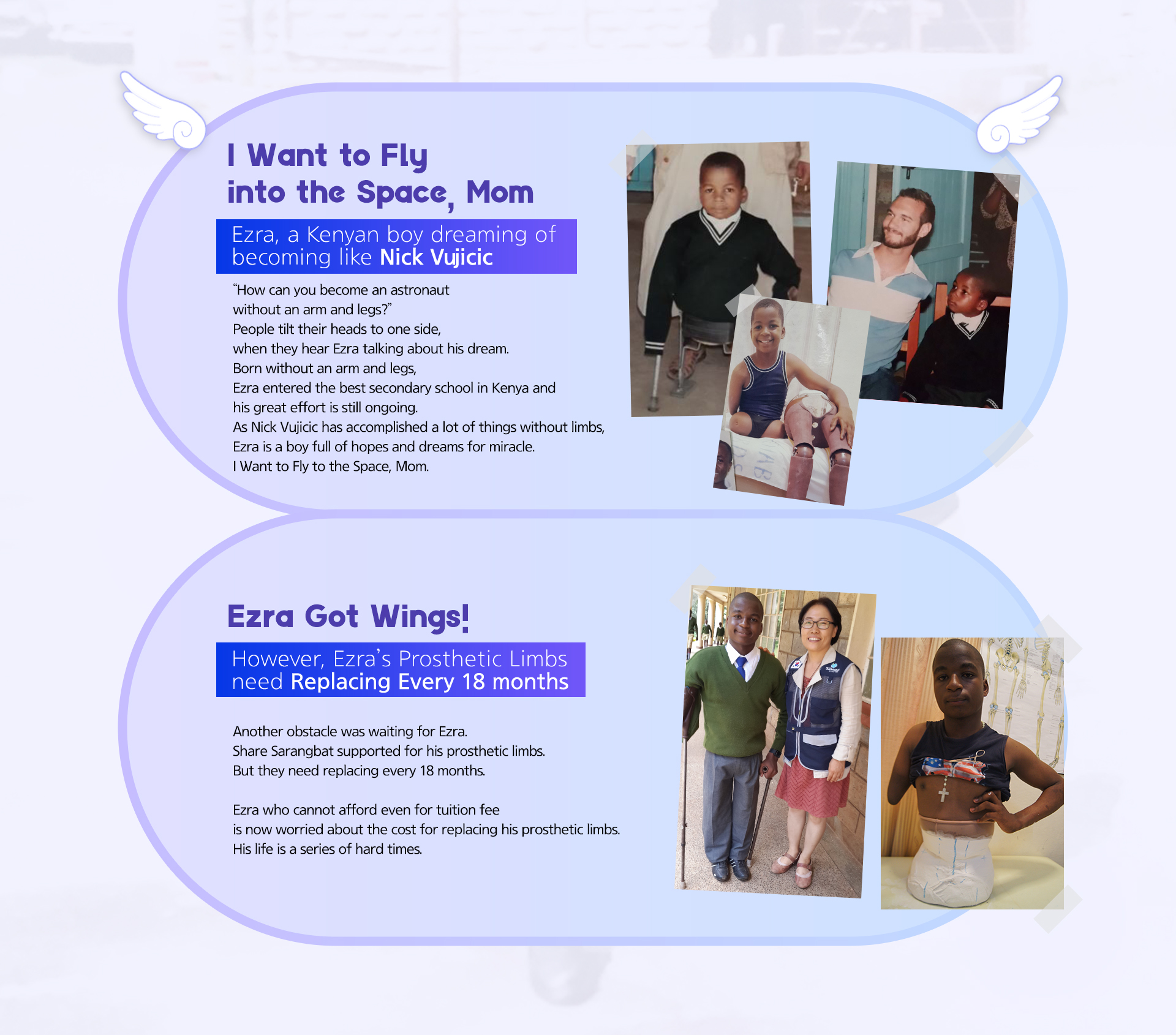 I Want to Fly into the Space, Mom

Ezra, a Kenyan boy dreaming of becoming like Nick Vujicic

"How can you become an astronaut without an arm and legs?"
People tilt their heads to one side, when they hear Ezra talking about his dream.
Born without an arm and legs, Ezra entered the best secondary school in Kenya and his great effort is still ongoing.
As Nick Vujicic has accomplished a lot of things without limbs, Ezra is a boy full of hopes and dreams for miracle.
I Want to Fly to the Space, Mom.

Ezra Got Wings!

However, Ezra's Prosthetic Limbs need Replacing Every 18 months
Another obstacle was waiting for Ezra.
Share Sarangbat supported for his prosthetic limbs.
But they need replacing every 18 months.

Ezra who cannot afford even for tuition fee
is now worried about the cost for replacing his prosthetic limbs.
His life is a series of hard times.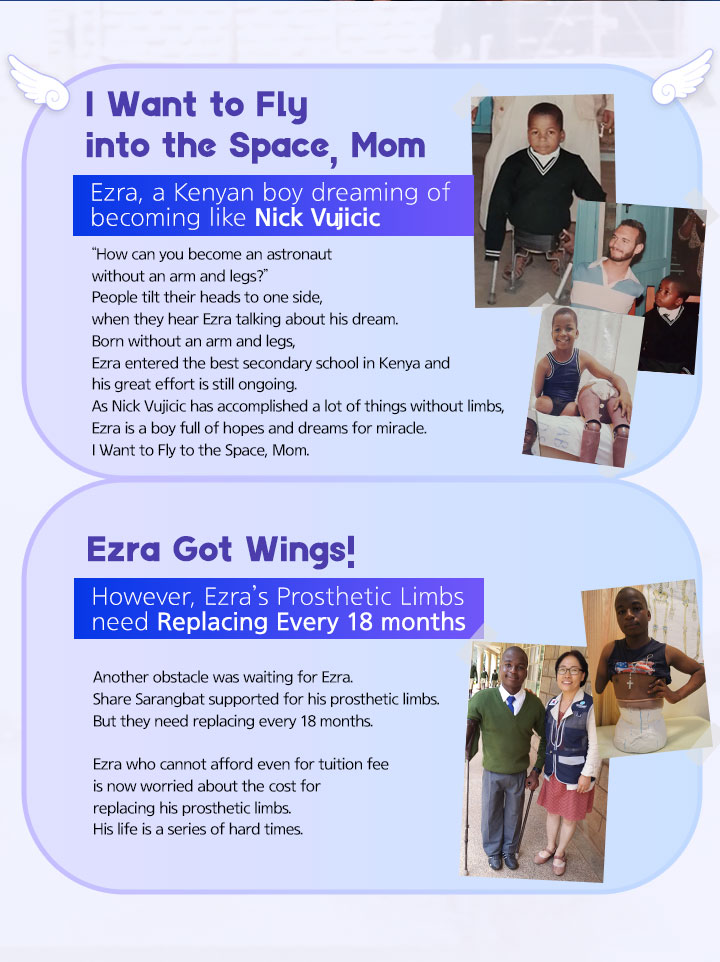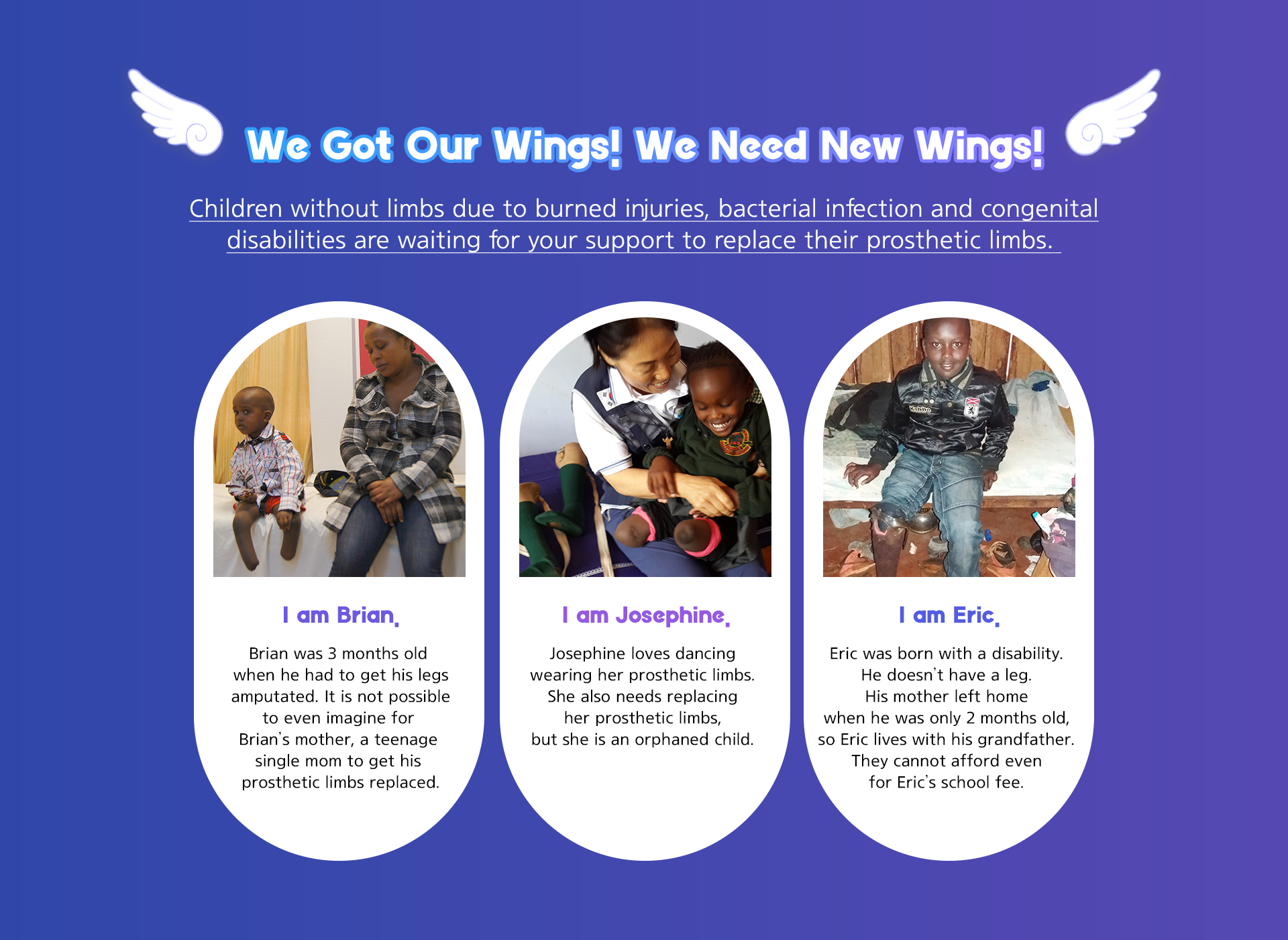 We Got Our Wings! We Need New Wings!

Children without limbs due to burned injuries, bacterial infection and congenital disabilities are waiting for your support to replace their prosthetic limbs.

I am Brian.

Brian was 3 months old when he had to get his legs amputated. It is not possible to even imagine for Brian's mother, a teenage single mom to get his prosthetic limbs replaced.

I am Josephine.

Josephine loves dancing wearing her prosthetic limbs. She also needs replacing her prosthetic limbs, but she is an orphaned child.

I am Eric.

Eric was born with a disability. He doesn't have a leg. His mother left home when he was only 2 months old, so Eric lives with his grandfather. They cannot afford even for Eric's school fee.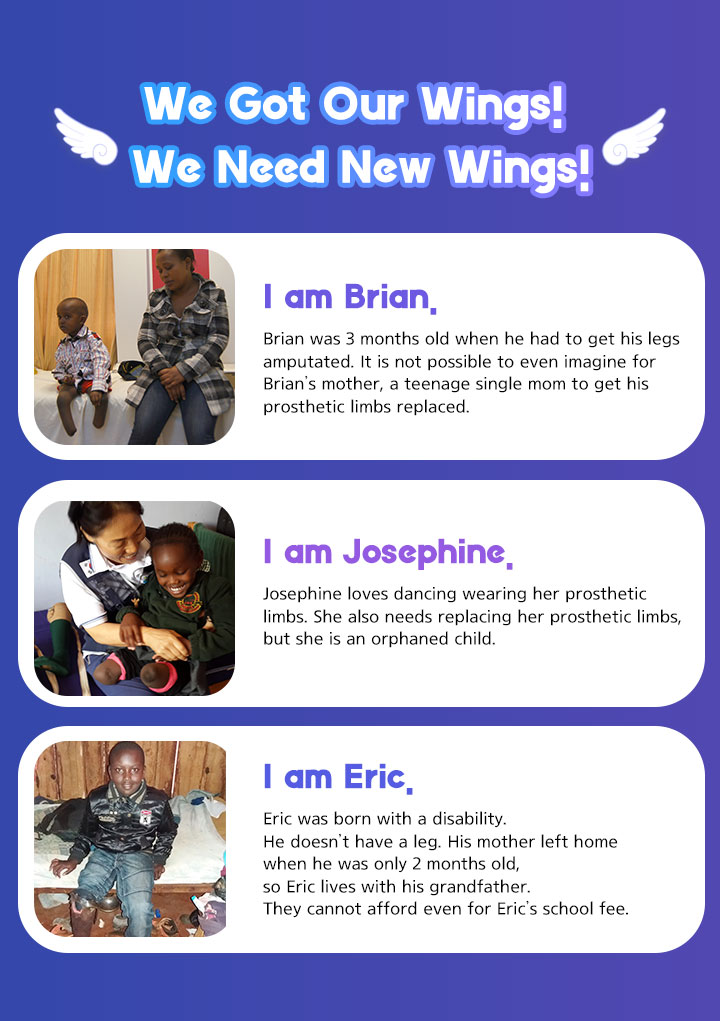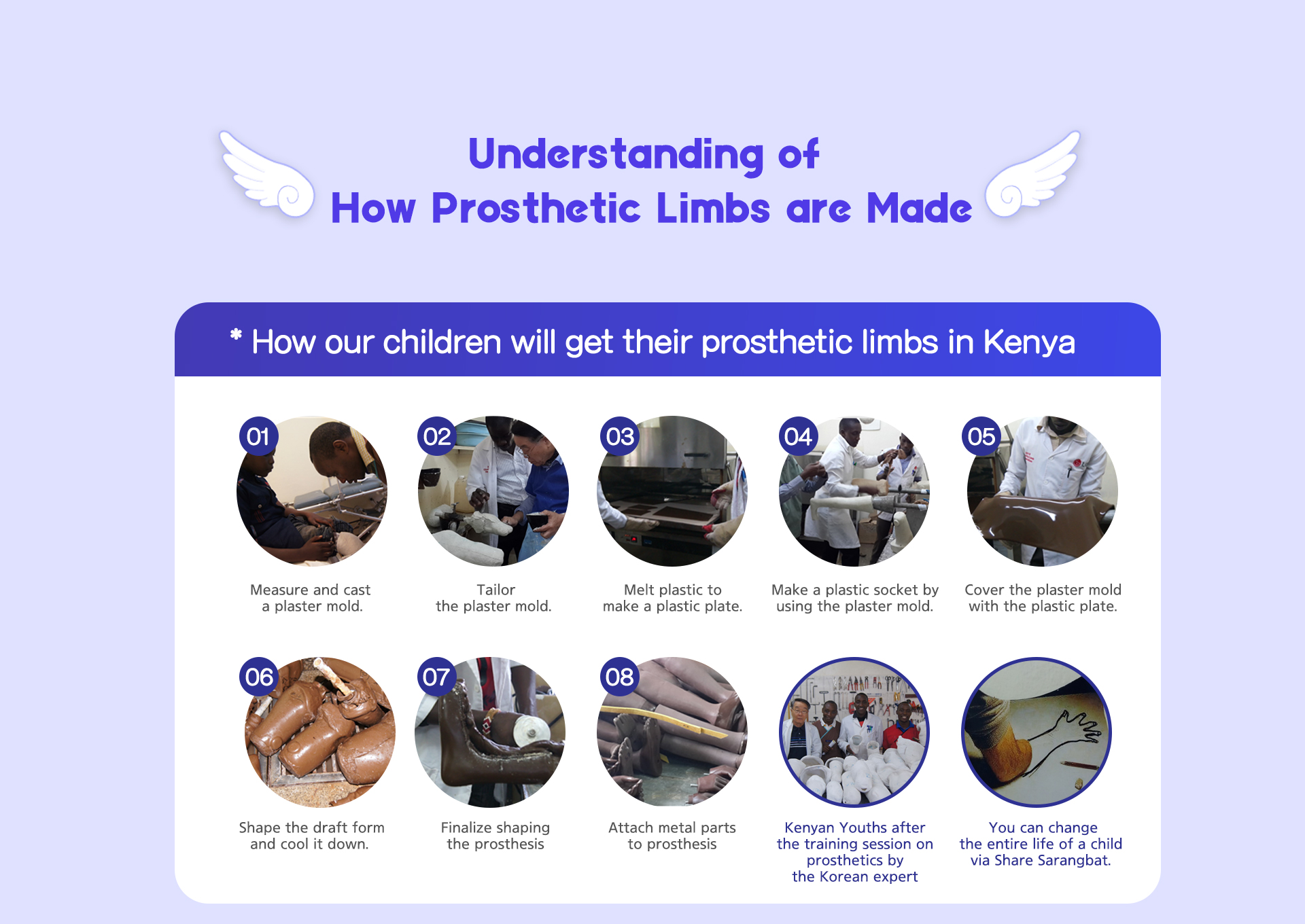 Understanding of How Prosthetic Limbs are Made
How our children will get their prosthetic limbs in Kenya
Measure and cast a plaster mold.
Tailor the plaster mold.
Melt plastic to make a plastic plate.
Make a plastic socket by using the plaster mold.
Cover the plaster mold with the plastic plate.
Shape the draft form and cool it down.
Finalize shaping the prosthesis
Attach metal parts to prosthesis
Kenyan Youths after the training session on prosthetics by the Korean expert
You can change the entire life of a child via Share Sarangbat.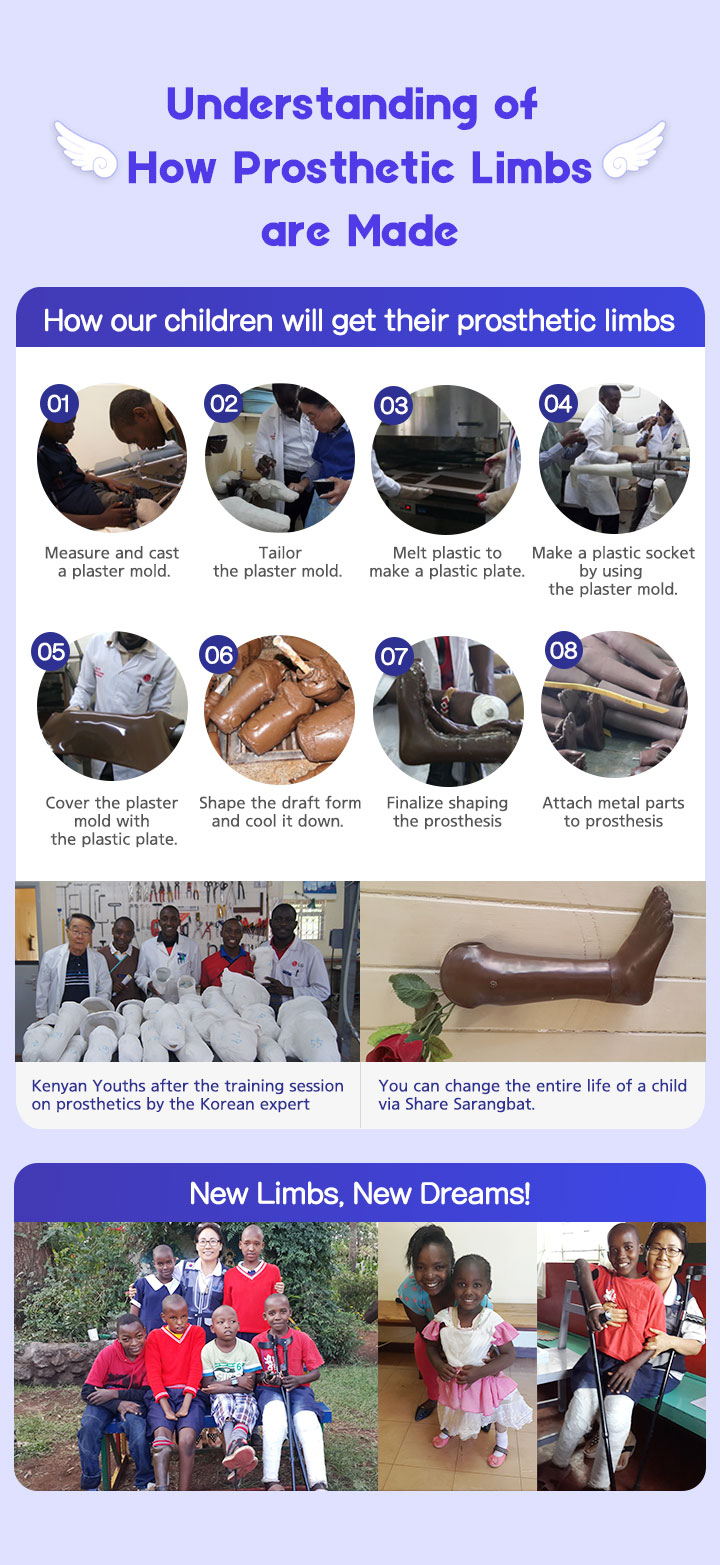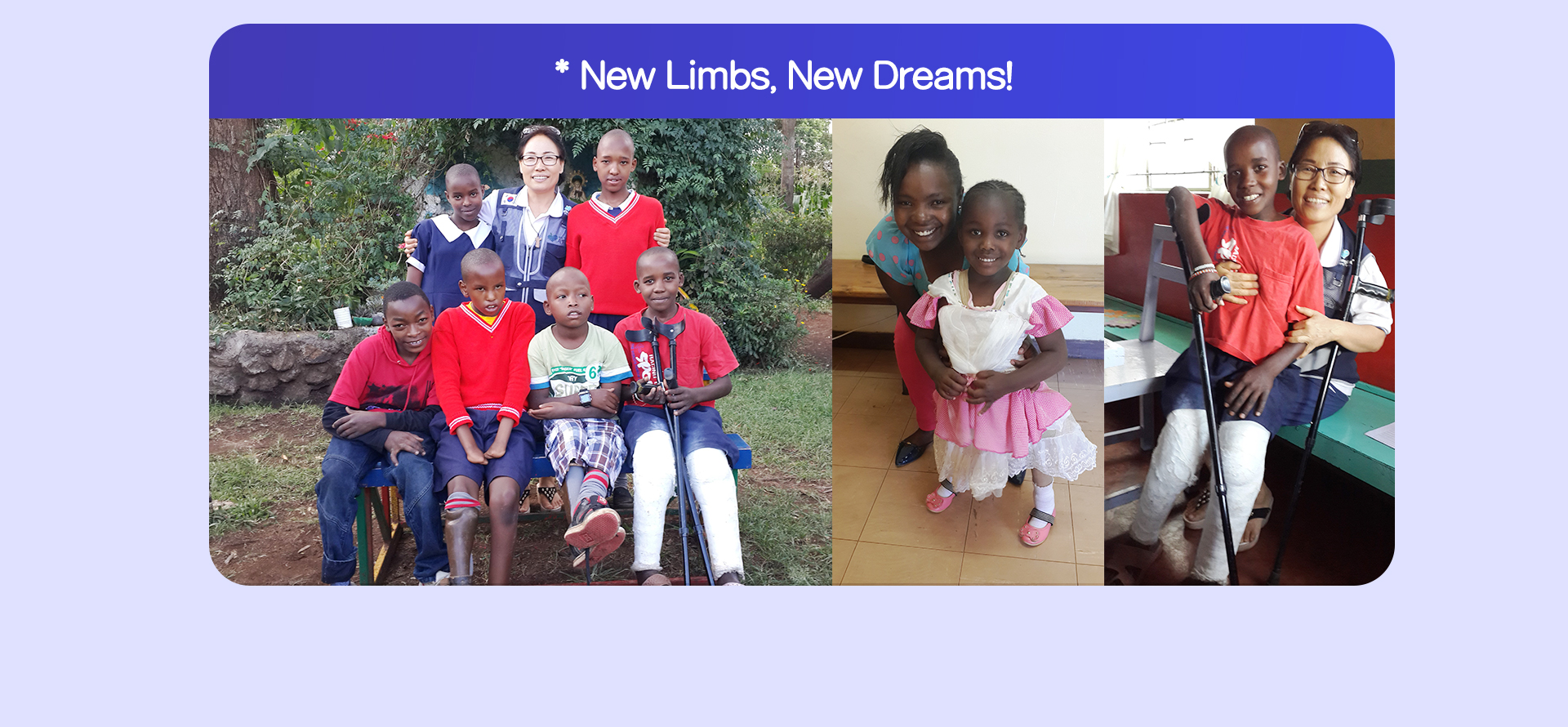 New Limbs, New Dreams!